An unscented anti-inflammatory blend that gently cleanses your body without harsh chemicals or fragrances. Winner of Health.com's 2023 skin awards (8 fl. oz)
Regular price
Sale price
$19
Unit price
per
SALE
SOLD OUT
IS THE TOTAL MOISTURE BODY WASH FOR ME?

Designed specifically for skin that's prone to irritation, this nourishing, unscented formula will leave you feeling refreshed, revitalized and oh-so-clean!

Unlike other harsh cleansers, this body wash will cleanse your skin without stripping it of the essential oils it needs to maintain its healthy radiance. Indulge in a sensation of pure, pampering comfort with every wash.

P.S.: Looking for our Dandy shower gel? You're in the right place! Dandy is now called Total Moisture Body Wash!
INGREDIENTS

Our favorite ingredients:

○ Dandelion Extract ○ Aloe Vera Gel ○ Argan Oil ○ Calendula Extract ○ Cucumber Extract ○ Coconut Oil ○ Burdock Root Extract

✓ Clean ingredients you can trust
✓ Rich, hydrating formula
✓ Gentle and luxurious
✓ Essential oils added for their benefits, not fragrance

✘ Irritants
✘ Nasty smells
✘ Filmy residue
✘ Phthalates, parabens, sulfates, petrochemicals, mineral oil, silicone or talc

BW_8
HOW TO USE

○ Recommended use: Apply to loofah or sponge to create a very rich foam. Massage into skin and rinse it off well. Follow with our Moisture Restore Lotion
SHIPPING & RETURNS

Shipping: All our skin and haircare products are made in the USA and shipped within 1-2 business days, unless you purchase a pre-order item.

Returns: you can return any items within 30 days of the delivery date. Visit our returns page to see our entire policy.
View full details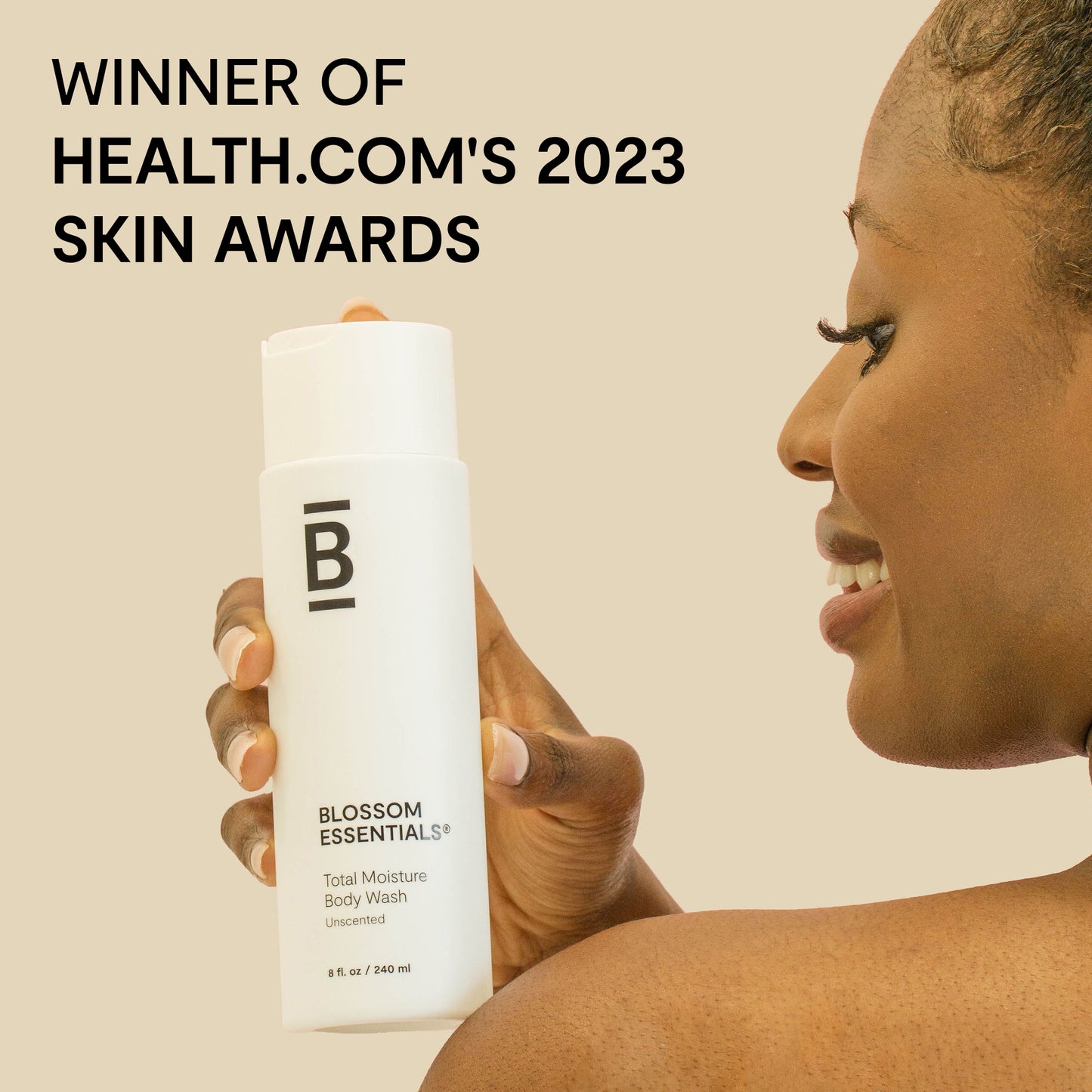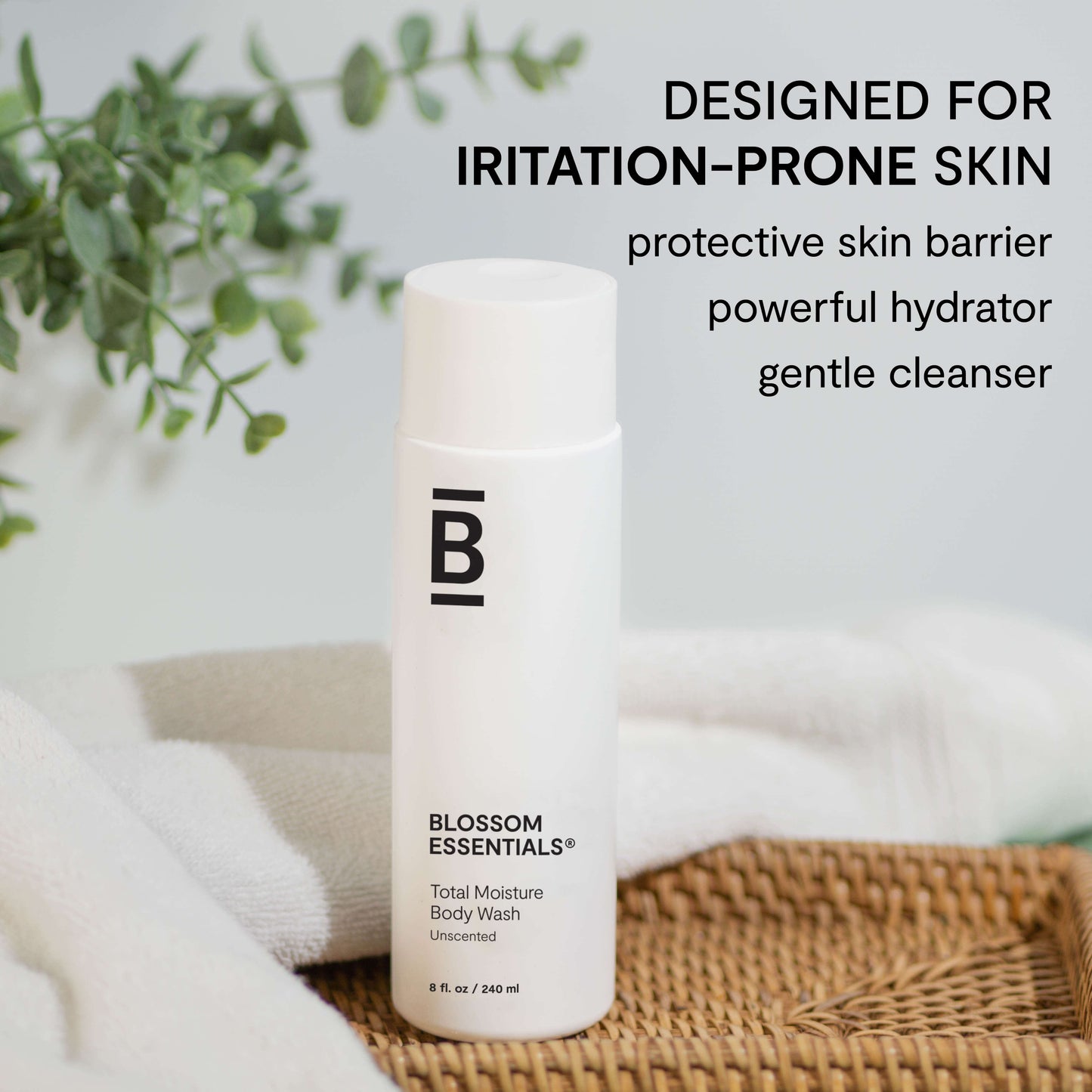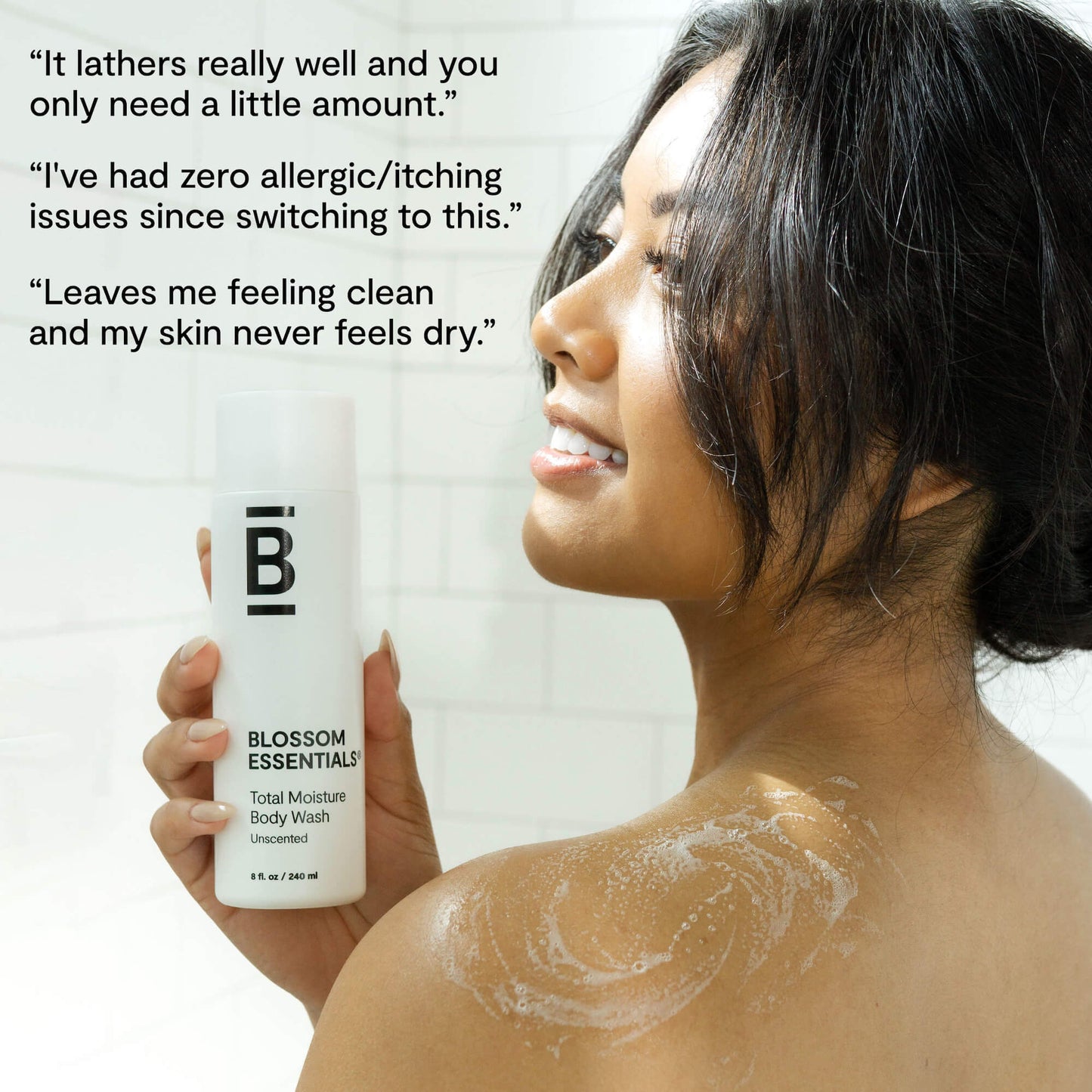 "Normally there aren't enough sharp corners for me to scratch on. Since I started using Dandy I have stopped scratching myself."

★★★★★ - Tony B.

"All of the basic retail "fragrance-free" body washes just don't smell good.. The natural ingredients give it a really light, natural fragrance..I've had zero allergic/itching issues."
★★★★★ - Sarah H.

"I don't usually use soap when I shower...but this body wash does not leave your skin dry. I use it on my face in the shower to get rid of make up and the dirt of the day."
★★★★★ - Catherine S.
Clean
& Natural
Skin Awards
Winner '23
No Added
Fragrances
Sensitive
Skin
Vegan &
Nut Free

High Lather & Foaming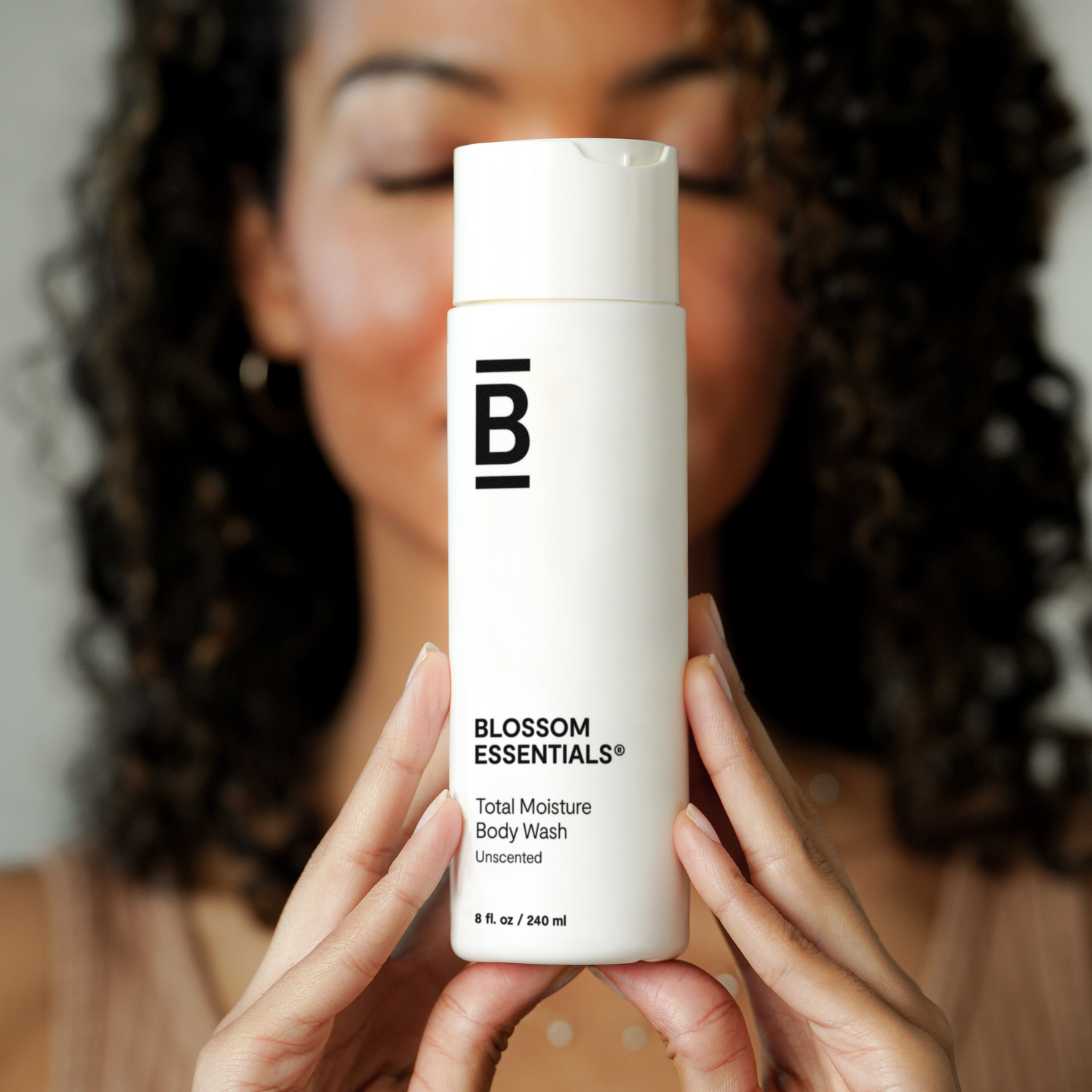 THE BODY WASH FOR IRRITATED SKIN
○ Cleanse and revitalize your body while soothing irritated skin, leaving you feeling refreshed and comfortable

○ Guard against daily pollutants and aggressors that often cause further irritations

○ Gently wash without stripping your skin, keep its natural balance, and feel soft, hydrated, and rejuvenated
WHY WE LOVE THIS
CLEAN & PROTECT

Gently cleanses and protects without stripping your skin of natural oils.

SOFTEN & SMOOTH

Nourishing oils relieve dryness and inflammation causing irritation.

HYDRATE & MOISTURIZE

Powerful hydrators draw and keep water on the top layer of your skin.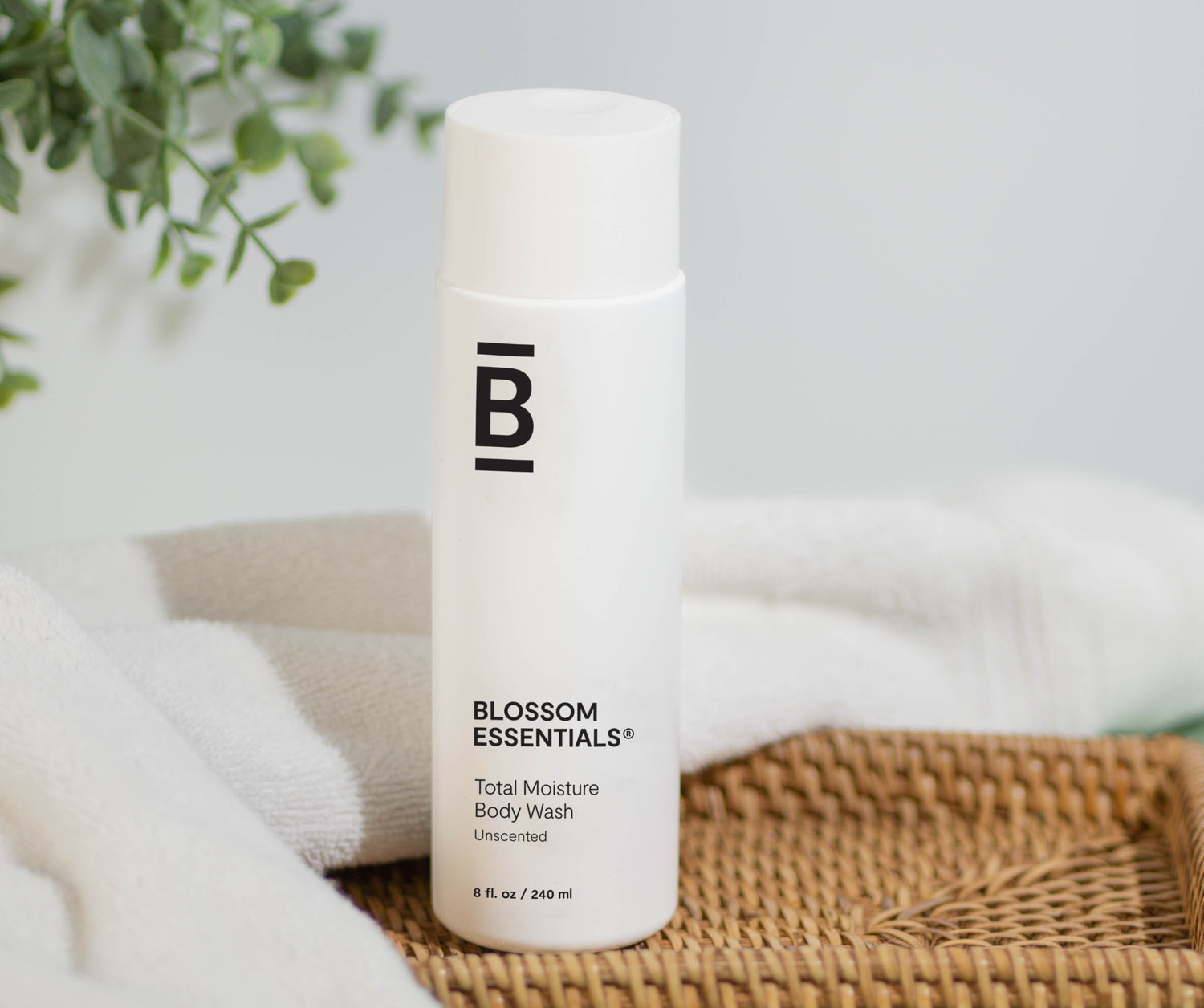 KEY INGREDIENTS
DANDELION
Detoxify, protect against UV damage, and increase collagen and hydration
ALOE VERA
Lessen inflammation while moisturizing dry, itchy skin
BURDOCK ROOT
Soothe skin irritations, destroy bacteria and reduce inflammation
CUCUMBER
Hydrate, cool, and soothe red, itchy and puffy skin
COCONUT OIL
Lock in moisture and restore skin elasticity
FREQUENTLY ASKED QUESTIONS
What's special about the Total Moisture Body Wash?

This body wash was designed for those with very sensitive, flare-up prone skin. It's unscented, very mild and has tons of anti-inflammatory and hydration-rich properties. It won't strip your skin of natural oils, but it will leave your skin feeling hydrated, soft and oh-so clean!
Is it free from all the nasties?

You know it!

Our Total Moisture Body Wash is:
-100% naturally derived, vegan and free from phthalates, parabens, petrochemicals, mineral oil, silicone and talc and anything else we shouldn't be putting on our bodies!
Can it be used as a face wash?

While it wasn't formulated for the face specifically, it is very gentle and can be used for the face if you'd like!