An innovative vegan formula containing a blend of ceramides, antioxidants, and skin-soothing ingredients, all in a gel-like, cooling texture for maximum lasting hydration. Formerly known as "Rosa" (8 fl. oz)
Regular price
Sale price
$30
Unit price
per
SALE
SOLD OUT
IS THE LOTION FOR ME?

Our Moisture Restore Lotion (formerly called Rosa) is the perfect lightweight body moisturizer for anyone with very dry, sensitive skin.

Made with ceramides, hyaluronic acid and aloe vera, this lotion will intensely moisturize and nourish the skin in order to soothe irritations, provide a cooling sensation and, of course, soften the skin.

Best of all, it doesn't have any drying alcohols, chemicals or synthetic fragrances most often found in other moisturizers that tend to irritate skin.
INGREDIENTS

Our favorite ingredients:

○ Aloe Vera ○ Avocado Oil ○ Sunflower Oil ○ Hyaluronic Acid ○ Vitamins A, C, E ○ Green Tea ○ Chamomile ○ Rosehip Oil ○ Rose Flower Extract ○ Castor Oil ○ Calendula ○ Pomegranate ○ Ceramides

✓ Nut free
✓ Vegan
✓ Clean ingredients you can trust

✘ Irritants
✘ Nasty smells
✘ Filmy residue
✘ Phthalates, parabens, sulfates, petrochemicals, mineral oil, silicone or talc

BL_8
TEXTURE & SCENT

○ You spoke, and we listened! The texture is slightly thicker than before, while still feeling very lightweight, cooling and quick-absorbing. It is now more of an airy, gel moisturizer.

○ We also changed the scent to a fresh cherry blossom scent, only using natural oils, never any added fragrance!
HOW TO USE

○ Massage lotion into damp or dry skin until fully absorbed

○ Use your Moisture Restore Lotion anywhere on your body, from your face to your toes

○ For best results and maintenance use daily
SHIPPING & RETURNS

Shipping: All products are made in the USA and shipped within 1-2 business days, unless you purchase a pre-order item.

Returns: you can return any items within 30 days of the delivery date. Visit our returns page to see our entire policy.
View full details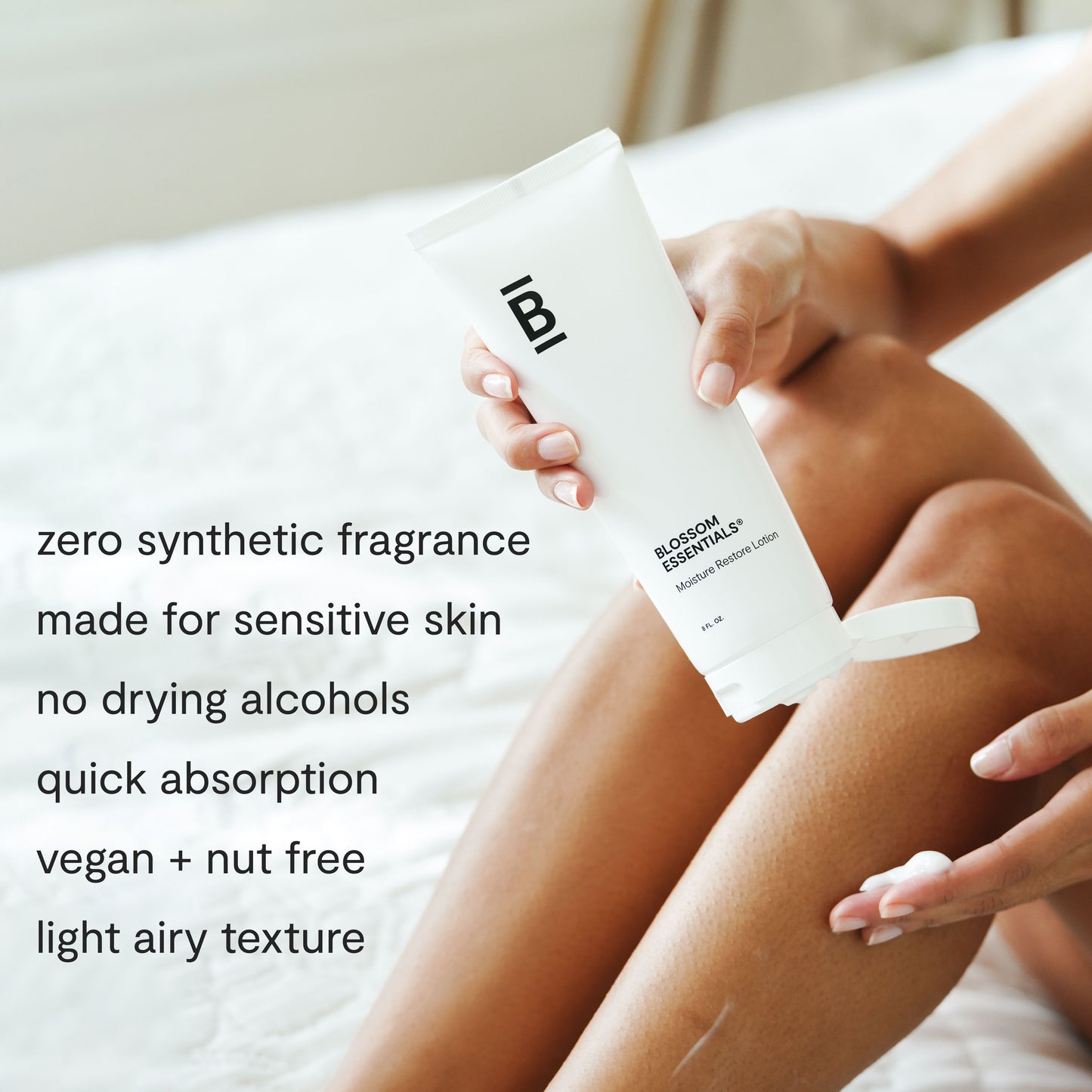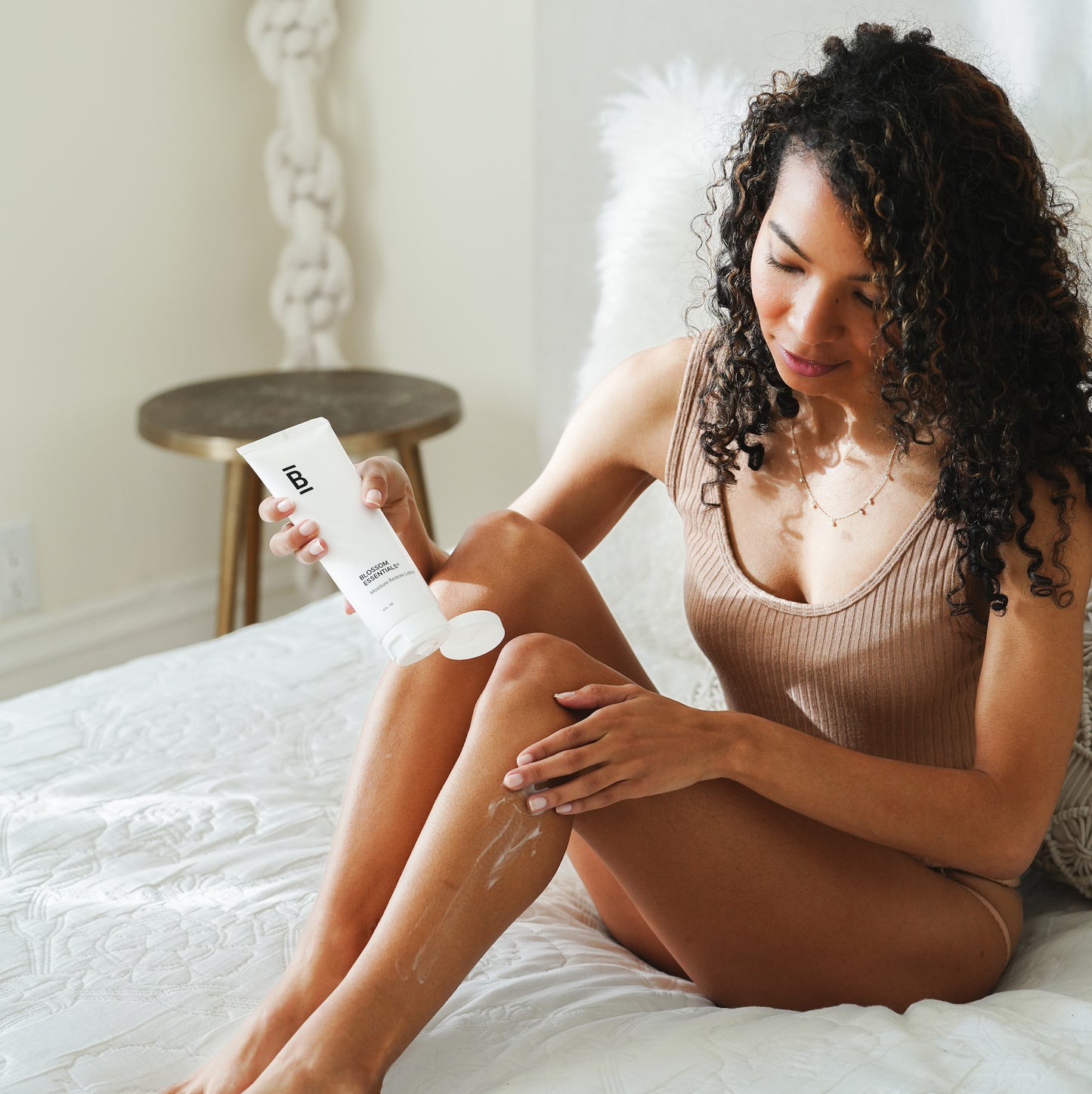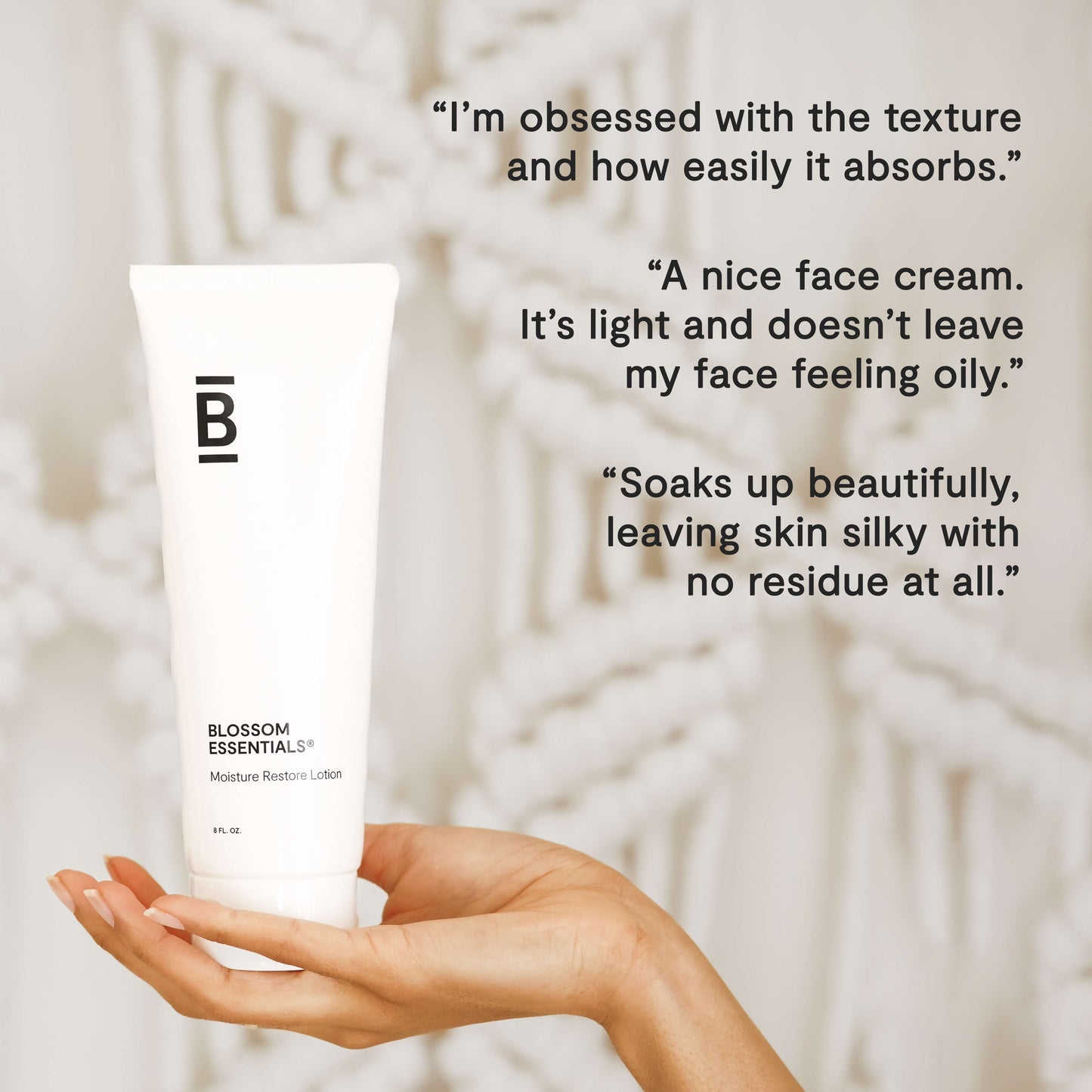 "The body lotion is so lightweight, but yet so moisturizing...This lotion calms down the dryness and itchiness without a heavy feeling."

★★★★★ - Diane S.

"Love the light feeling of the lotion and how it absorbs quickly! I use it along with Dandy and the combo seems to be helping my itchy skin!"

★★★★★ - Carole K.

"Finally an alcohol free moisturizer that works very well for me. My skin has improved greatly...Very happy male customer."

★★★★★ - Will C.
Clean
& Natural
Vegan &
Nut Free
No Drying
Alcohols
Light &
Airy Texture
Quick
Absorption

No Synthetic Fragrances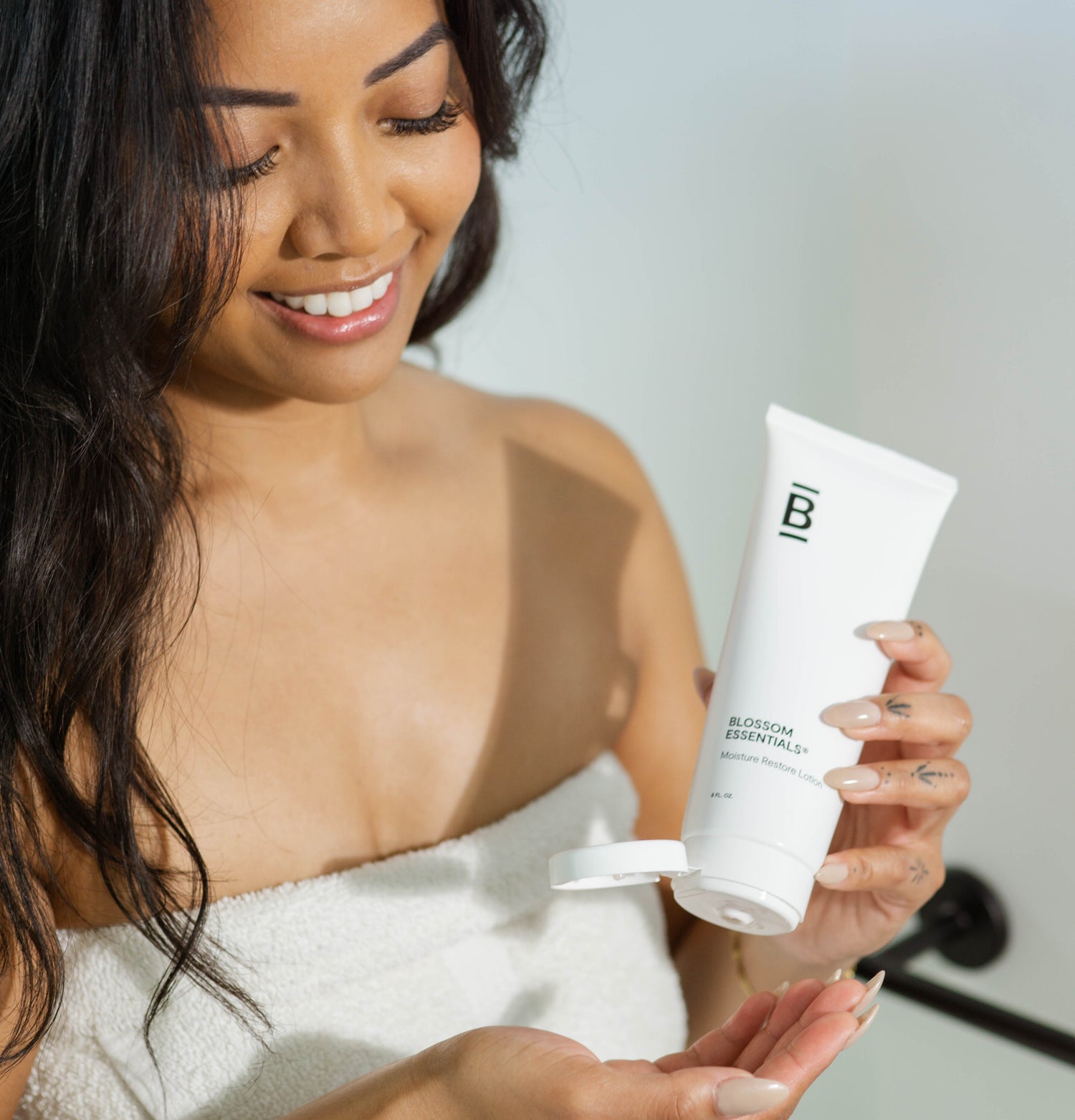 GIVE YOUR BODY THE
INDULGENCE IT DESERVES
○ Skin conditioning oils combined with barrier-supporting ingredients to deeply moisturize skin without leaving a greasy residue

○ Free from harsh additives, drying alcohols and artificial fragrances typically causing irritations

○ Shields your body from harmful chemicals, free radicals, and pollutants in the air
WHY WE LOVE THIS
HUMECTANT

Powerful hydrators draw water molecules to the top layer of your skin.

ANTI-INFLAMMATORY

Reduce inflamed skin causing the dry, itchy and red flare-ups.

MOISTURIZER

Restore, moisturize and soften the skin to encourage new, healthy skin growth.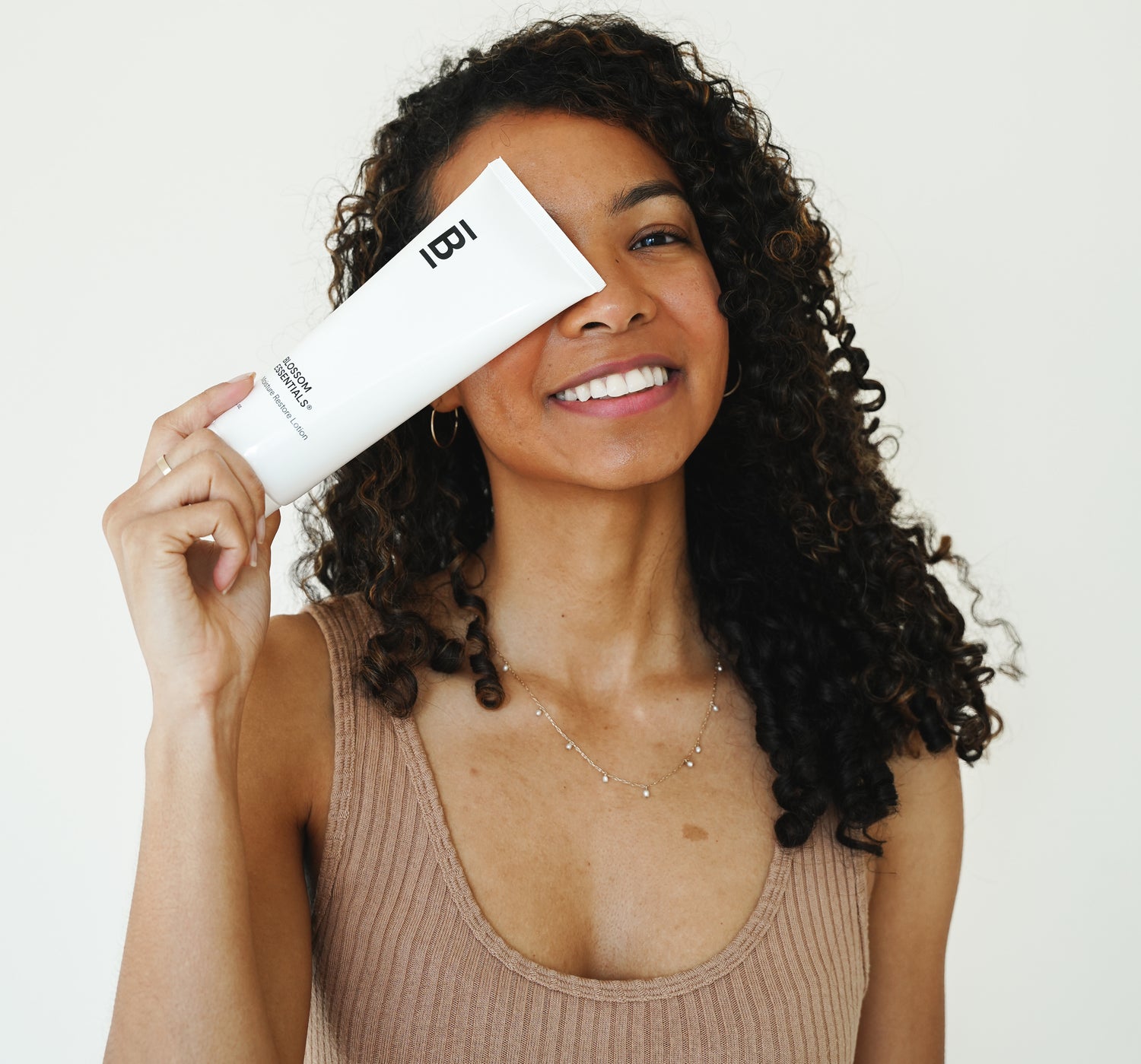 KEY INGREDIENTS
CERAMIDES
Rebuild the skin barrier to trap the hydration in your skin
HYALURONIC ACID
Keep skin lubricated while reducing the appearance of wrinkles
SUNFLOWER OIL
Calm inflammation and itching, hydrate and retain moisture
GREEN TEA
Intensely moisturize and hydrate, and reduce the signs of aging
VITAMIN C
Retain moisture, increase collagen production, and improve skin tone
ROSEHIP OIL
Brighten skin and encourage collagen production and elasticity
FREQUENTLY ASKED QUESTIONS
What's included and what's not

The lotion is:
○ clean, made with 100% naturally derived ingredients and vegan

It does NOT have:
○ gluten, soy, parabens, SLS/sulfates, synthetic fragrances, phthalate, mineral oil, talc, silicone, or nuts
What is the texture?

You spoke and we listened! The texture is slightly thicker than before, while still feeling very lightweight, gentle and quick-absorbing.

It is now more of an airy, gel moisturizer!
What is the scent?

The lotion has a light and clean cherry blossom scent that comes only from natural ingredients. There are no artificial or synthetic fragrances in it.
Will it clog my pores?

No, this lotion is extremely lightweight and gentle and should not clog your pores. It absorbs very quickly and actually has many ingredients that are known to refresh and renew your skin!
Can I use it on sunburns?

Yes! The Moisture Restore Lotion is crafted with many skin-cooling ingredients like aloe vera so it can work great on sunburns.
Can I use it on my face?

While the Moisture Restore Lotion is designed as a full-body moisturizer, it is light and airy enough to be used on your face as well! We always recommend doing a patch test on a non-sensitive area first just to make sure there are no adverse reactions.
Do you still sell the original Rosa formula?

We do have some available! Please email us at support@tryblossom.com to place an order!