A potent blend of organic Manuka honey, nourishing oils, and natural moisturizers penetrates deeply for intense hydration and relief from dry or itchy skin. This salve quickly soothes and repairs damaged skin, leaving it revitalized, healthy, and wonderfully soft. [Formerly called Honeybutter] 
Regular price
Sale price
$40
Unit price
per
SALE
SOLD OUT
IS THE HONEY SALVE FOR ME?

Say goodbye to dry, itchy skin with nature's miracle butter - the Hydration Repair Honey Salve! (Previously known as Honeybutter)

The restorative formula is both a hydrator and moisturizer to provide fast and long-lasting relief to a variety of skin conditions like dry, cracked skin, dermatitis, eczema, psoriasis, and more.

The natural, powerful ingredients penetrate deeply to soothe and restore damaged skin, leaving it nourished and hydrated.

Some common uses are:
○ Dry skin (it's a fantastic daily moisturizer!)
○ Eczema, Psoriasis, Rosacea
○ Dermatitis (contact, atopic and seborrheic)
○ Cracked, itchy feet or hands
○ Chapped lips
○ Itchy, dry scalp
○ Overnight foot mask
○ Overall maintenance and prevention of flare-ups
○ Cleansing balm
○ Slugging
○ And many other reasons!
INGREDIENTS

Our favorite ingredients:

○ Organic Manuka Honey ○ Aloe Vera Gel ○ Calendula Extract ○ Sweet Almond Oil ○ Coconut Oil ○ Beeswax ○ Tea Tree Oil

✓ Dermatologist-tested and third party tested for sensitive skin
✓ Clean ingredients you can trust
✓ Rich, hydrating formula

✘ Irritants
✘ Nasty smells
✘ Filmy residue
✘ Petrolatum, Phthalates, parabens, sulfates, petrochemicals, mineral oil, silicone or talc

Looking for our nut free version? Click here!

HS_4
HOW TO USE

1. Apply the salve in a circular motion to create a natural barrier on your skin.

2. If using it for itch-related purposes, we recommend applying it as the itch is happening for immediate comfort. Apply as needed.

3. Continue use daily to start seeing nourished, rejuvenated skin!

○ Quick tip: This salve is great as a regular daily moisturizer, especially in the colder months!

○ Safe for all skin types and areas
○ For external use only
SHIPPING & RETURNS

Shipping: All products are made in the USA and usually shipped within 1-2 business days, unless you purchase a pre-order item.

Returns: you can return any items within 30 days of the delivery date. Visit our returns page to see our entire policy.
*A NOTE FOR THE WARMER MONTHS*

Similar to natural peanut butter, natural separation of the oils is completely normal during the warmer months.

Please make sure to take your package out from the heat as soon as possible to lessen the chance of melting and leaking inside the box. If it leaks, there is nothing wrong with the product, just wipe it down and stick it in the fridge for 1-2 hours to re-solidify!
View full details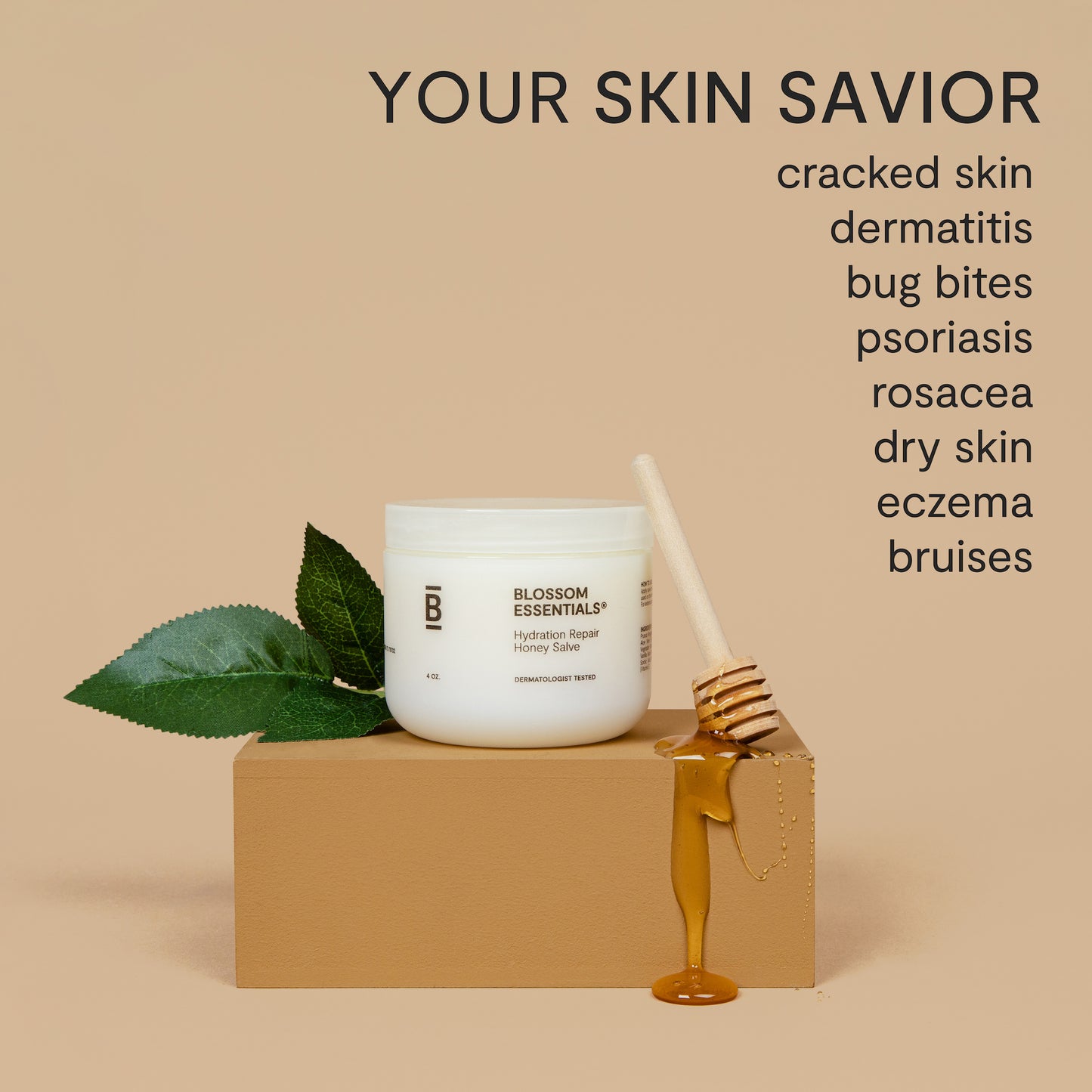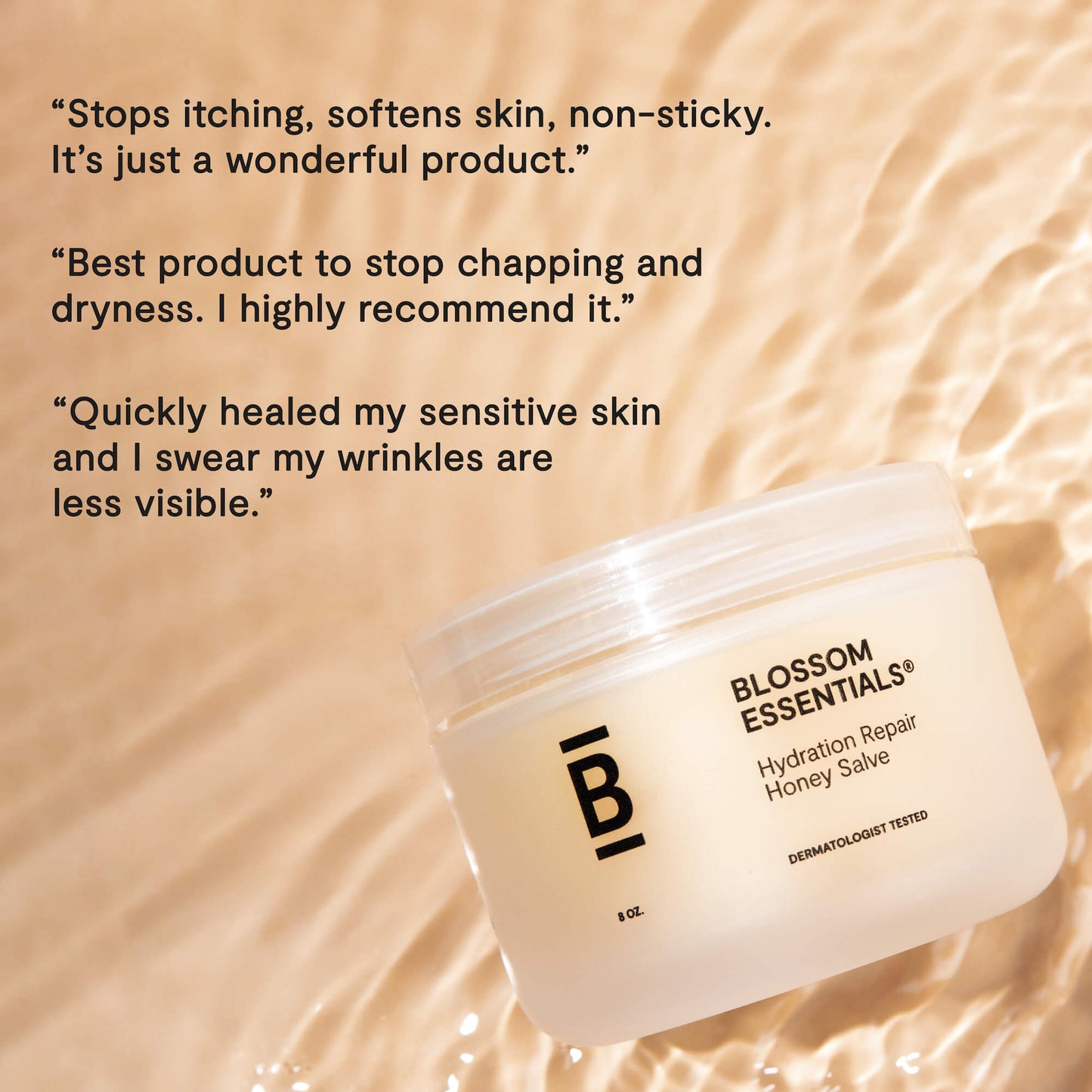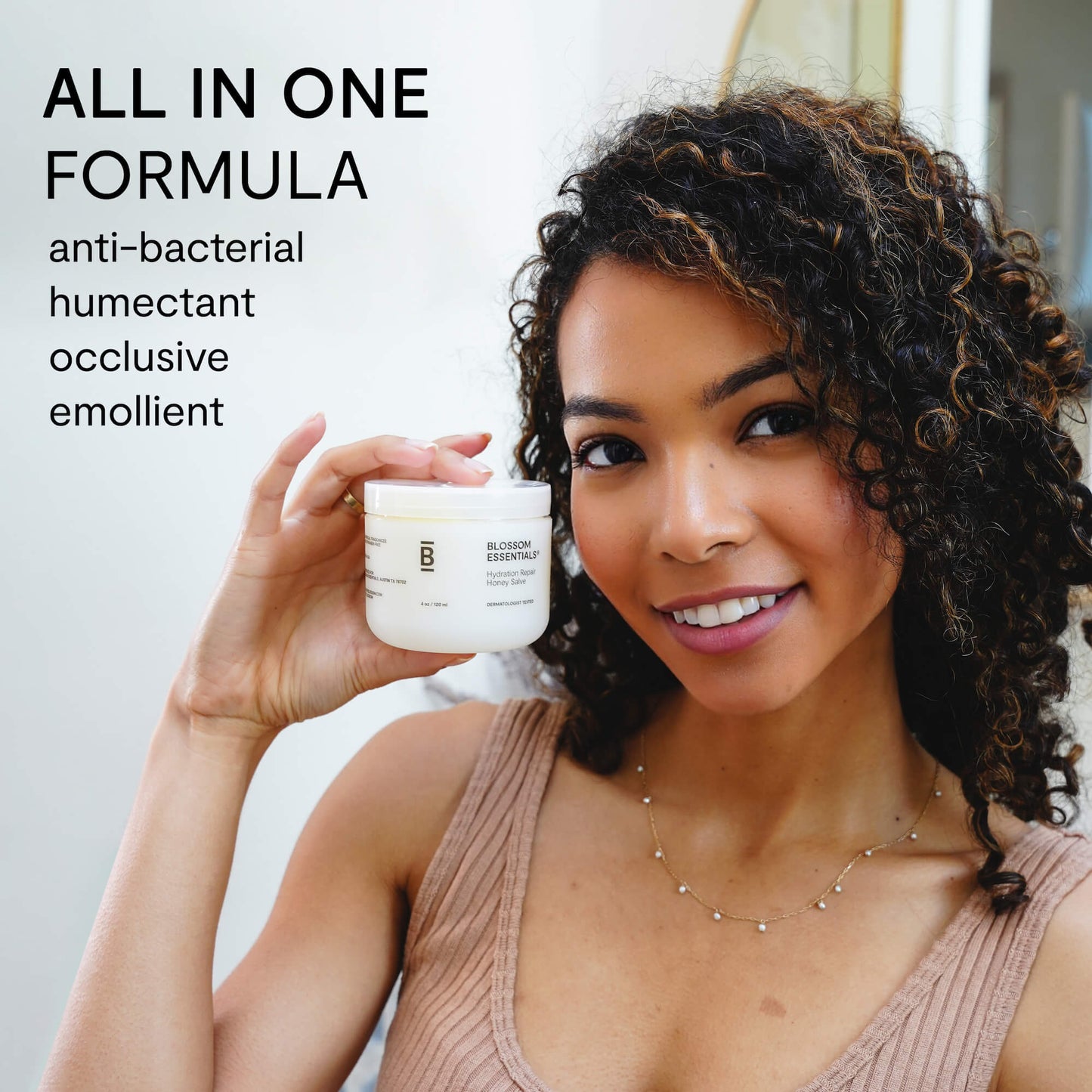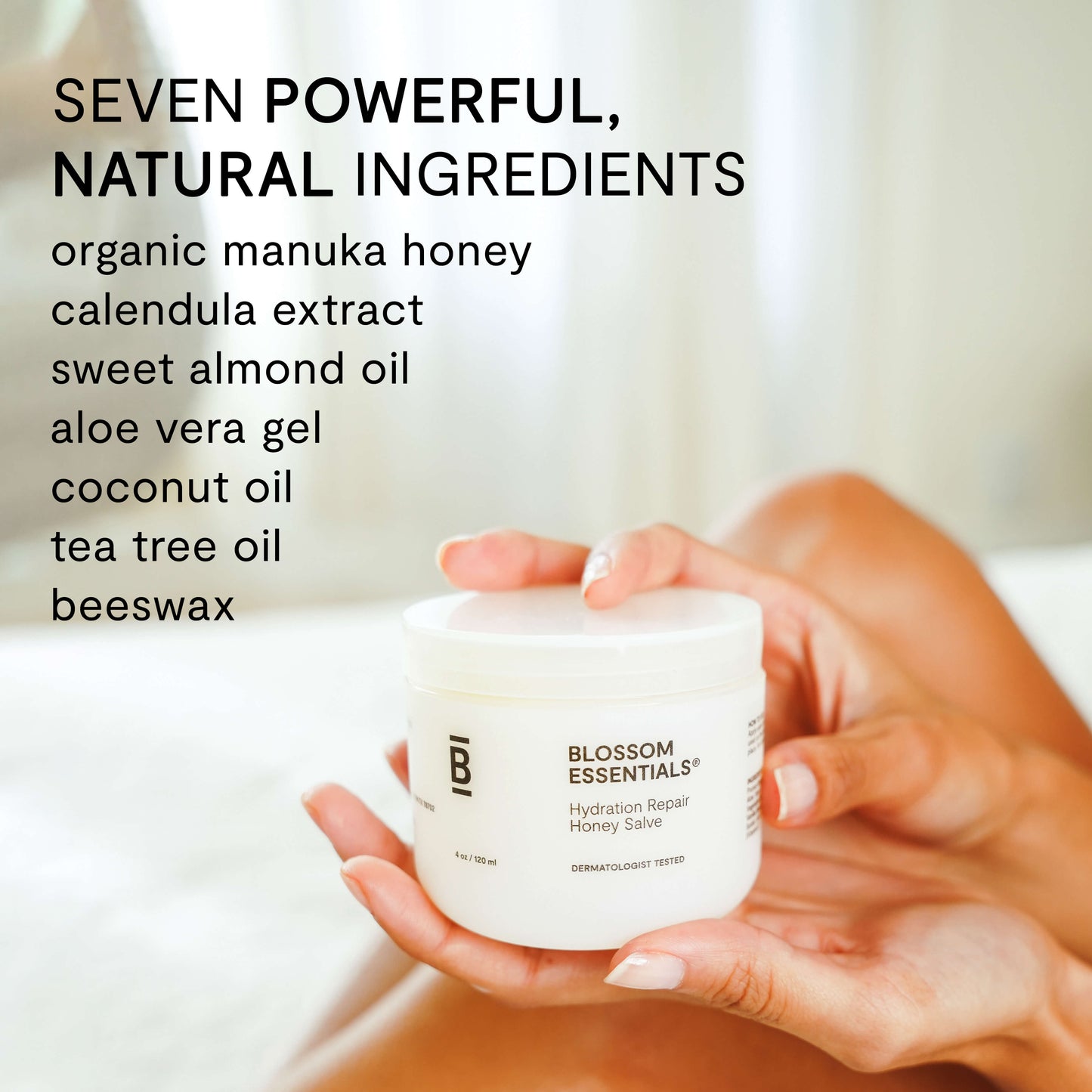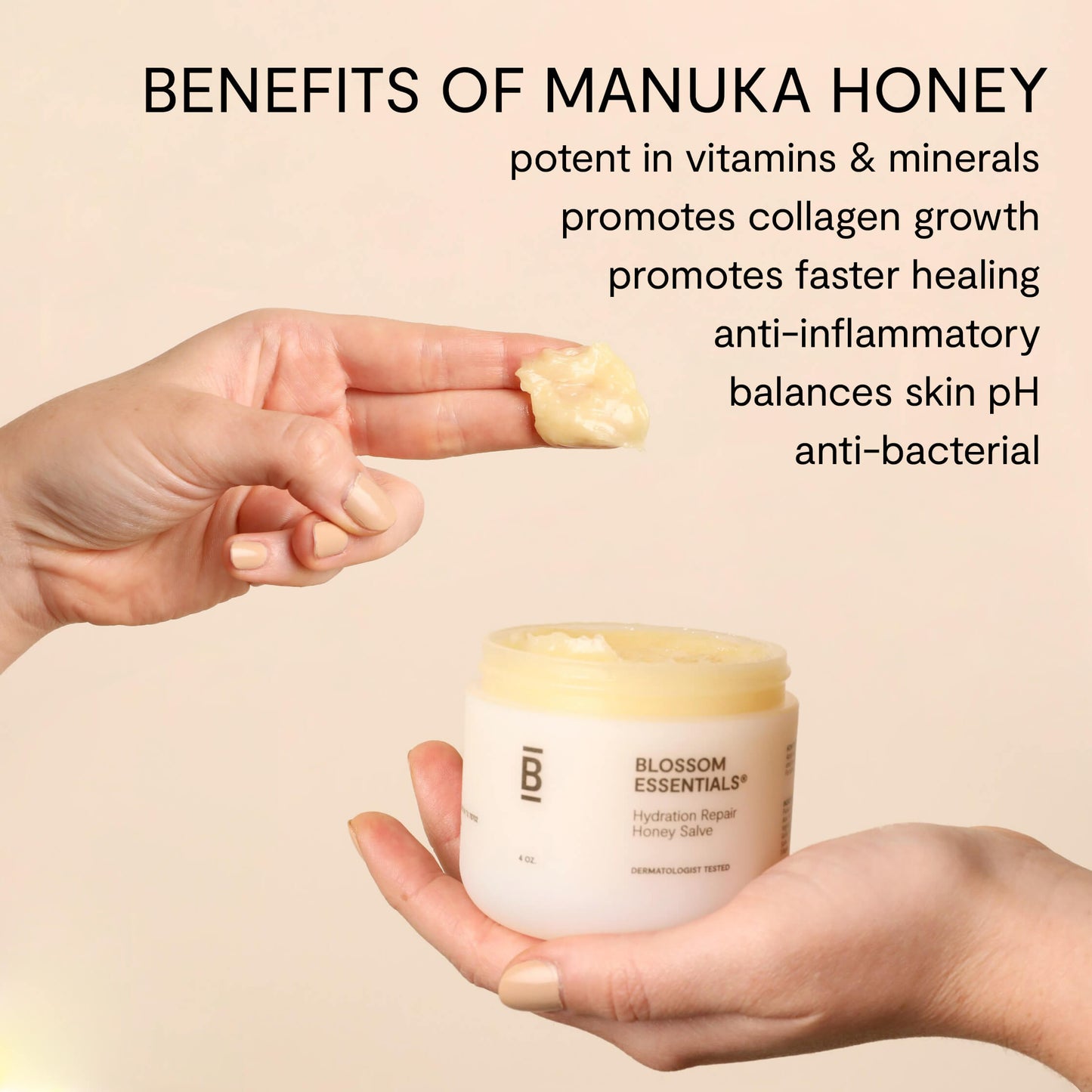 "My husband uses it after he shaves, I use it on my grand daughters eczema and I use it on my extremely dry skin!"

★★★★★ - Sherry B.

"My daughter gets severe eczema and this has made her skin baby soft again and does not sting. It has also helped calm my dry dry skin."
★★★★★ - Hilary R.

"It is actually absorbed instead of just coating...really helped my super dry hands and I am no longer getting splitting skin around my nails.
★★★★★ - Elvira R.
Dermatologist
Tested
Natural
& Clean
Manuka
Honey
Steroid &
SLS Free
No Added
Fragrance
Sensitivity
Tested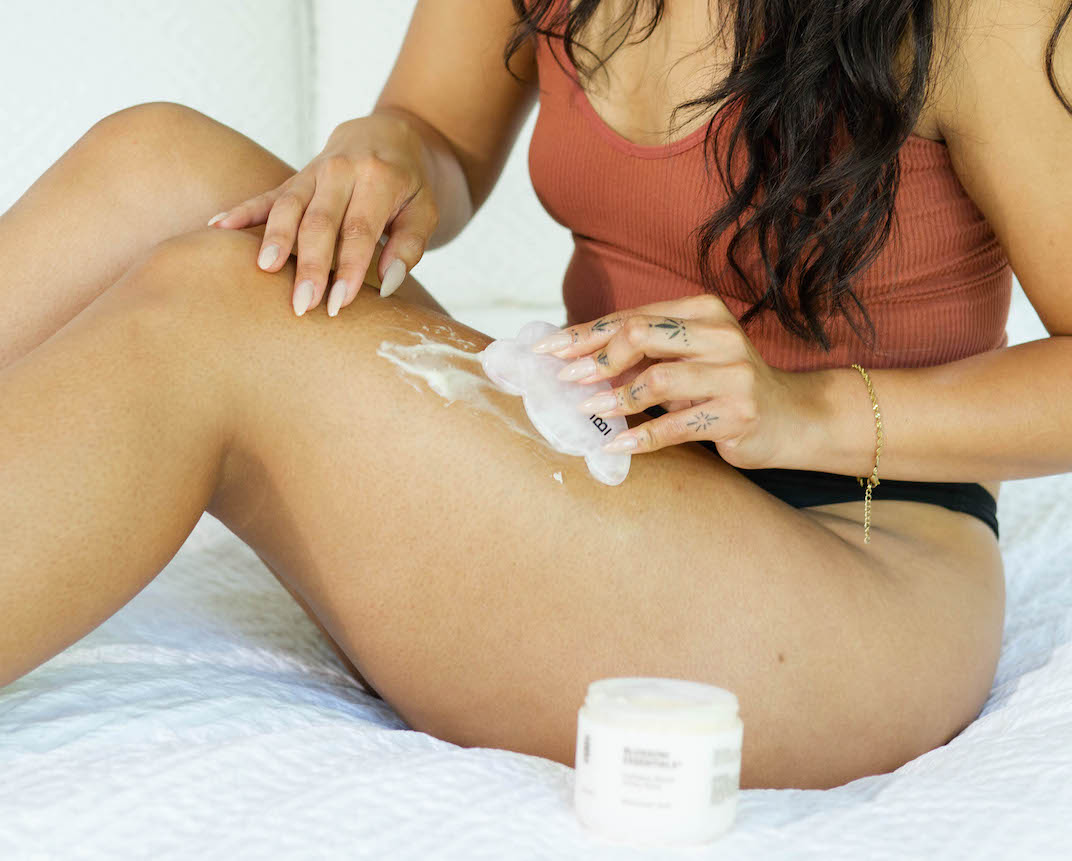 APPLY INTENSE HYDRATION TO:
○ Dry or cracked skin
○ Eczema
○ Psoriasis
○ Rosacea
○ Dermatitis
○ Razor burn
○ Rashes
○ And, so much more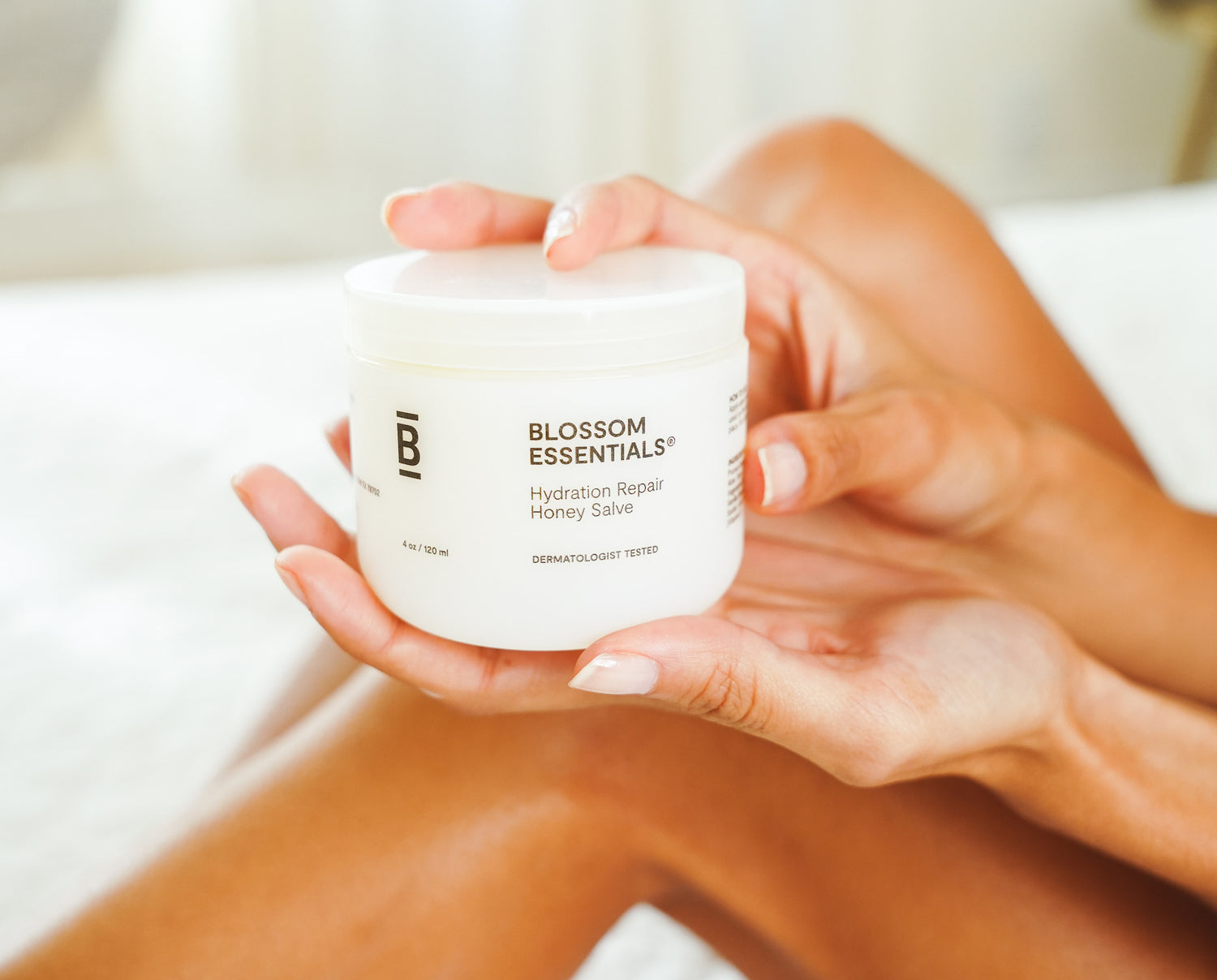 MADE FOR SENSITIVE SKIN
Dermatologist-tested and safe on your:
face, eyelids, hands, feet, scalp, underarms, and even lips! 
WHY WE LOVE THIS
HUMECTANT

Draws water to the top layer of your skin for intense hydration.

ANTIBACTERIAL

Kills off any bacteria that cause further irritation and inflammation.

OCCLUSIVE

A barrier protects against bacteria entering and moisture exiting.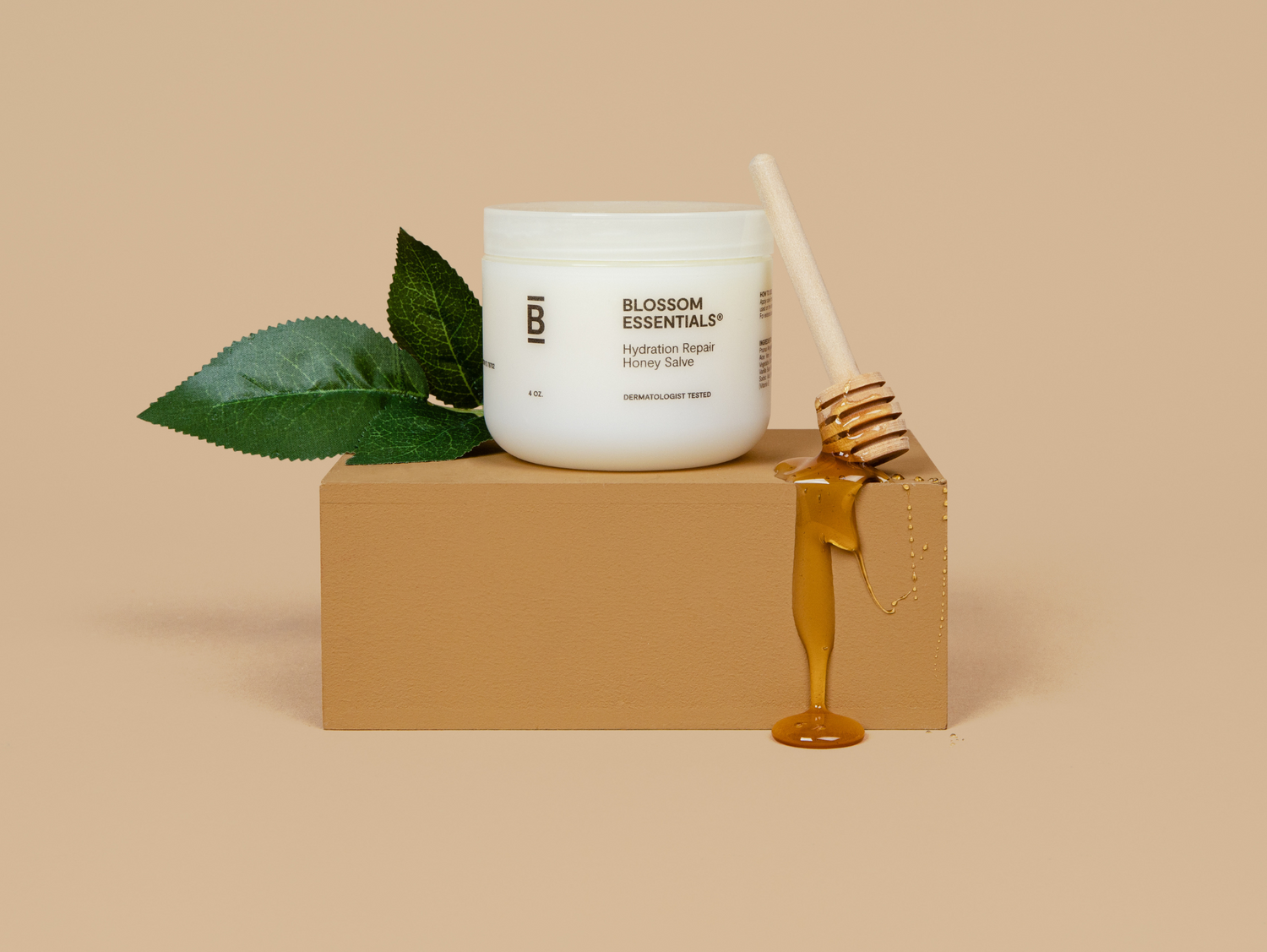 KEY INGREDIENTS
ORGANIC MANUKA HONEY
Speed up healing, kill bacteria, and draw in moisture
BEESWAX
Soften dry, chapped skin, lock in moisture and soothe irritation
ALOE VERA
Moisturize and antioxidants prevent cell damage
TEA TREE
Calm itching and inflammation and encourage wound healing
COCONUT OIL
Reduce inflammation and itching, and moisturize and tighten
SWEET ALMOND OIL
Fatty acids restore skin while calming itching and redness
FREQUENTLY ASKED QUESTIONS
Is there a difference between Honeybutter and Hydration Repair Honey Salve?

Absolutely nothing! It's the same product we just changed the name and the packaging!
How long will it take to see results?

You should feel the itch calm down very soon after applying the honey salve!

If you are using it to alleviate severe dry patches, depending on how long you've had the issue, you may need to use it daily for a few weeks to a month before the dry spot is gone, as it will take a bit longer to penetrate the area and work its magic!
Is it sticky?

Short answer, no! We were able to formulate it in a way where the blend doesn't feel sticky, but more so, it becomes a gentle oil that melts into your skin!
Will the salve work on sensitive skin?

Yes! The honey salve is third party tested for skin sensitivity to make sure it's gentle enough for even the most irritable skin.
It has also been designed to work on many sensitive areas of the body including eyelids, lips and face.
However, we always recommend doing a patch test on your innner elbow first to make sure of no adverse reactions. If you have any allergies, please check the ingredients list before use.
Is it safe for children and/or infants?

Yes! Children love the honey salve! But please keep in mind that the salve is safe for children over 1 year old due to the honey being dangerous for infants with an undeveloped immune system. But, as always, we recommend consulting your physician before use at any age in case of any allergens.
Does it have a smell or fragrance?

The Hydration Repair Honey Salve doesn't have any added fragrances, but there is a very light smell from the coconut and almond oils!
How do I use it?

Apply the salve in a circular motion to create a natural barrier on your skin.

-If using it for itch-related purposes, we recommend applying it as the itch is happening for quick comfort.

-Then we recommend using it morning and night to continually nourish the area and relieve the chronic dryness/flare-up over time.

○ Quick tip: The honey salve is great as a regular daily moisturizer, especially in the colder months!

○ Safe for all skin types and areas.

○ Apply as needed.
○ For external use only.
Do I refrigerate after use?

During the winter months, it may harden during transit, so we recommend giving it a few hours to soften up in warmer temps before use.

We don't recommend refrigerating it, as the balm is oil-based and more dense. Store it in a cool, dry place.
Is it made in the USA?

Yes! We source our quality ingredients locally and from around the world, but everything comes together in sunny Florida where our honey salve is made.
Does it contain steroids?

No! We were adamant that there would be no steroids in our honey salve. Steroids have been known to cause skin thinning, darker pigmentation, stretch marks, acne and other issues. Make sure to consult a doctor before using any of those creams.